Who is PJW Racing?
PJW Racing has been a small, primarily Track racing team comprised of local racers you will generally see every Thursday night at the NSC Velodrome racing a variety of races. 202 on, we are morphing some due to the loss of the local Blaine velodrome which closed permanently in 2019. You will see us at a variety of local criterium, road races and other non local track competitions. We are mostly Masters level racers which means older than 35 years of age. Some of our team have track records here and at tracks like the Boulder Valley velodrome in Colorado. Medals have been earned at local, state, national and international levels over the last 10-15 years. One of our team mates has been racing at NSC since the very beginning of the track, 30 years. Great job Mark! We are supported by a great batch of sponsors (See sponsor page) that includes our local favorite bike shop, CARS Bike Shop in Mounds View.
You can help support the Future of Track Cycling in MN by following The MN Cycling Center in its efforts to build a new velodrome, cycling, education and event facility within the 494/694 ring.
If you want to get some in-depth day by day break downs on Pat's personal adventures and specific National and International Championship events over the last 11 plus years click on the next link down, Pat's Adventures, enjoy!
2019 Season
I need to process this last season, the end of racing at the NSC Sports Center Velodrome for ever as the track will be decommissioned Oct of 2019 making way for school play fields for the recently built SLP school just north of the velodrome. 30 years behind us in a facility that was designed to last 20 years is not a bad record but we are still sad to see it go. Here's to www.mncyclingcenter.org to help build the replacement venue. 
The team this year was great! Mark Stewart, Eric Ware, Charlie Anderson, Allen Bellas, Marcel Derosier, Craig Aasen, so glad to have you and friends as race partners. We all had a spectacular season of decent results, tons of fun and excitement relishing what we have had, wishing it could continue, knowing it wouldn't at the present location. 
A few of us are and have been working with MN Cycling Center to help build the new version of a velodrome in hopefully the local community. 
Personally, I retired from PJW Automotive Inc after 38 years in the auto repair business at the end of 2018 which has opened some time for me to get more involved in cycling related opportunities to learn, train and hopefully pass some knowledge along with the help of one of our team sponsors, CARS Bike Shop. We have opened a training room at CARS and conduct a variety of off season training sessions. You can check our PJW Racing Facebook site for the most up to date schedule soon for this fall, winter and early spring.
Helping Bruce at CARS to update his newly expanded shop and then help with some special bike projects has been rewarding as well. 
My season goal was to head to Manchester, Oct of 2019 for my 10th Worlds Masters Track Championships happening again at the home of British Cycling, a great venue. Taking the fitness I've gained with my new 2019 coach Robert Ferguson, I felt like I had a chance to get onto the podium for only the second time out of 11 years. (I missed one Champ event over the past 11 years) My hopes and anticipation paid off with a 3rd Place finish, Bronze Medal and chance to be on the podium with two other very fast gentleman a Brit and an Aussie in the 5K Scratch race in the 70-74 age group. (The age group I just moved into this year) 
The season is over and we are moving into the fall/winter season where training will move inside rather than endure the harsh winter temps and road conditions. Good luck to all of you and keep riding that bike for whatever reason makes you happy. It has certainly been good to me. 
2018 Season
The season that can't seem to get started thanks to mother nature. No matter what you think about human effects on nature, weather patterns are no longer what they used to be. It's late April and we just got blasted with more snow making this month some kind of record for total snowfall. The results? Well there are no race results because all of the early season races have been postponed. The NSC velodrome is hosting it's second only snowblower at the track day on Saturday 4/21 so we can at least get a start on drying out the track. Instead of riding the track on a bike we will be riding down the track on snow shovels. Promise of warm weather next week is a welcoming sight.
2018 Team seems to be set, Charlie, Mark, Eric, Craig, Allen and me so far. We are looking for a few juniors but don't see a lot around for now.
My early season training camp in CO was somewhat disappointing because the Boulder track was still doing maintenance and the weather was a bit cool there too. Luckily the Colorado Springs track, with its dome bubble, was open and available to use for at least 3 days including a Sprinter training season. Getting stuck in a major snowstorm in Julesburg CO, sleeping in my car and the floor of a fire station made the drive home memorable to say the least. 
Looking back, the 2018 season was a great season. Lots of fun and great results from all the squad members during our local races. A few of us even got out for some early season criterium and road races, not great results but still good fun and training. 
Personally, I was struggling with trying to wrap up a 38 year old auto shop business and get on with retirement, overdue by a year. 
A earlier season trip by car to the infamous T-Town velodrome in PA for US Masters Track Championships. The logistics around that were certainly challenging. My best result was a one 5th place medal. Not my best results but made the overall trip a success and helped to reignite my desire to well at Worlds Track Champs in L.A. in Oct of 2018. 
Eventually made it back to Colorado for end of the season altitude training spending time in Colorado Springs, Boulder, Avon and then the 2 plus day drive to L.A. and a week of competition. Stayed with my great friends Linsey and Andy which made the week a great adventure. Andy, ended up with 2, yes TWO World Championship medals, Team Pursuit and a mass start race. Congrats Andy. 
The drive back was anticlimactic, 4 days of driving. Home at last to lick my wounds and spend the next few months closing down my auto business and then plans for the last year at the local track, NSC, 2019. 
2017 Season
The active PJW Race team has shrunk a bit for 2017, Mark, Charlie A, Eric, Craig and me are the most active this year. The remaining 3 members are taking some personal time off, life is full for everyone. I've been busy with traveling around between Europe in the early season for some fun rides with my Australian friend Chris, Boulder for 2 week with Chris and then Rock Hill S.C. for Masters track championships. All were great times and a good chance to train and get a lot of kilometers in the bike legs. You can follow some of those trips if you want in my blog www.pjwracingadventures.com 
The NSC season is full on into the state championships already. We are in our last years of being able to use the NSC track before it closes for good and is replaced by a school. You may know that I am actively working with www.mncyclingcenter.org We are hoping that we can build a new indoor velodrome, preferred location so far is in NE Mpls at about 28th and Central Ave on some used CP Rail property. Please visit that site and support our efforts any way you can, money, as a volunteer, show up for our events, contact your legislators, etc. We think that track cycling has a great future if we can get a facility closer to the central city instead of an outside suburb that can be a transit challenge.
Our old facility does need maintenance on a weekly basis so if you have some time and interest we have work crews on most every Saturday afternoon usually after 2:00. Please join us to help keep NSC alive for the next 2 plus years that we have.
The PJW masters were out in force for the 2017 MN State Sprint Championships with Mark, Eric and me racing. Mark gaining 2nd and me gaining third against Linsey who is very strong this year. The masters have another state champ this Thursday, a 40 lap Points race for anyone 40+ age. This should be very fast with Cats 1,2 and 3 riding. Might be worth coming out to watch! A lot of the same racers are just back from racing at Rock Hill S.C. for Masters National Championships (including me) where the NSC crew collected a number of medals. NSC was well represented.
That's a wrap for the 2016 NSC season. Thanks TEAM!
(Missing 3 members, Mark S, Craig A and Mark C)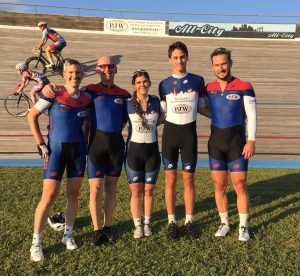 The last race night of the season was Sept 8th. The weather started perfect and degraded to a point where we were all thinking rain out for the last half of the night. Luckily, being our last race night we had time to do our track stand, race backwards around the track for a lap craziness and as that took some time the rain drops stopped and we finished up the last few races which included the 80 lap Cat 1/2 State Championship Madison, last race of the night. We had a great crowd watching and cheering most of the night. Close and exciting races all night long. Sad to see everyone packing up and heading off to what usually takes place this time of year, Cross.
Still, a few of the NSC crowd are going to Manchester the first week of October to really close the season down. (Masters World Track Championships)
It's July, what's up?
The season is going strong, lots of great TNL (Thursday Night Lights) racing with really big fields, especially the Cat 4 womens and the Cat 4 mens fields. Enough riders sometimes to split the fields, amazing. Thanks racers.  Already in the past is the one Keiren and the two Sprint Clinics as well as one TT Development night. More development TT nights are scheduled and we have the State Sprint Championship event on Monday the 11th of July. Flying 200s and then matched sprints to follow.
Personally, I got a chance to spend 2 weeks in Boulder racing, attending a wedding for my two great friends Chris and Jennie and unfortunately saying so long to my Aussie friends who moved to Boulder but couldn't find jobs and had to move back to Sydney. It was a very full and enjoyable two week vacation and Summer Training camp. I also got a chance to spend time with all the other Mpls to Boulder transplants and additional Boulder friends before driving back home.
Planning for the 2 Criterium bike races that I plan to run later this summer in August is on going with lots of details to work out.  You can check out all the details on the other pages at this site.
Future 2016 ride and race planning is happening for me with a trip to Iowa for RAGBRAI on the task list, no USA Masters Track champs because of the conflict with the New Brighton Criterium. Other races may be the last 2016 Worlds Masters track champs in Manchester.
The overall team seems to be doing well, one member out for a while because of his wedding, others doing some great rides and spreading the PJW Auto message. Congrats to all.
2016 Season Starts Tonight!
Yes, the weather is right, the track is in great shape and hopefully we are all trained up to have a great kick off race night. There is a full schedule, including a Keiren for the Cat 1/2's. The stands are just waiting to be filled. Should be a fun night. Join us.
2016 Season, planning and training
It's only March but the weather here is amazingly warm and riders have been asking when they can ride at NSC. My answer is I'm not sure but when I know I will pass on the opening date. If you don't already know, Bob Williams, our track director had a second back surgery a few months ago and is recovering and doing therapy for it. That means running the track activities seem to be falling in the hands of a lot of volunteers. I don't know all the details but I do know the season is set to be a great season and all races, including The Fixed Gear Classic in early June, will happen seamlessly as Bob recovers. Thanks to all the volunteers that have stepped up to make that happen.
PJW Racing has lots of new looks this year. The team has grown adding members that have raced in the past and are back to enjoy the track again. The team now is Mark Stewart, Charlie Anderson, Val McGoldrick, Mark Carey, John McGuire, Craig Aasen, "Z" Heide, and eventually as Charlie Johnson recovers from an ankle injury we hope to see him back as well. An updated kit is ready for a fresh 2016 look too.
2015 Peter Moore grabs Junior National Championship
PJW Racing Junior rider leads strong Minnesota delegation
Six Minnesota riders took to the track at the Elite and Junior National Championships last week in Santa Clara, California. Peter Moore, PJW Racing member, took top honors, garnering the National Championship in the 13-14 Men's Omnium. The gold medal was Moore's first national championship.
Charlie Johnson, another PJW Racing junior rider competed in his first national event and had some great placings in a very competitive older age group.
Congratulations to both for all the efforts, glad to have them as part of our team.
2014 TEAM CONGRATULATIONS
2014 Season wrap up time. It's been a long and exciting season for the revised version of PJW Racing but it's now time to close it out and start planning for next year.
First item to handle though is to thank all the current Team members for their great team representation at all levels. Mark, Jeff, Charlie, Val, Peter and Charlie teamed up with Pat for the season.
Our Team members included juniors as well as Masters track racers and we were well represented locally, nationally and internationally.
Locally, both Jeff and Pat won State Championship medals.
Nationally, Val and Peter raced at the USAC Junior Track Championships in the early season and Peter placed 4th overall in the Omnium as well as garnering a 3rd place medal in the Points race. Val rode like a champion in 6 different events, placing as high as 4th overall. Pat and Charlie raced at US Masters Track Championships in August at Marymoor Velodrome in Redmond Washington with Pat winning medals in the Scratch Race, Points race and Sprint rounds. Charlie placed 6th in his very competitive Points race and top 10 in his Individual Pursuit. This was Charlie's first National event in a very fast age category. PJW Racing, as a Team, finished 31st out of 143 teams at Marymoor, not bad for just two of us. Finally, Pat finished the season by scoring a 2nd place finish in the Scratch race, two 5th place finishes along with a 10th and 16th at the Worlds Track Championships in Manchester England in early October.
We would be remiss if we didn't thank all the co sponsors of this year's team. Top of the list is Metropolitan Heart and Vascular Institute, thank you for your generous contribution. CARS Bike Shop, Mounds View, and Bruce the owner is always willing to work with us on all our bike gear needs. Fast Forward Wheels, Scratch Labs hydration mix, Champion Systems bike clothing and Fit Kit cycle fit systems. Of course, PJW Automotive and PJW Racing are the main source of funds and energy behind the team.
We have all won a chance for some time off before moving on to fall and winter sports and training for next season. Cross bike racing and Cross Country skiing are on tap for some of us.
NSC Velodrome, Blaine MN. Our Home track.
Cat 3 race in action going through corner 3 on out 250 meter wood strip velodrome. The design is based on the Barcelona Olympic track  and was built to host the US Olympic trials.